FTW membership is an online global community of people that want to make a difference by supporting planet changing projects and ideas. Members receive special access to our shows, newsletters, and discounts on upcoming webinars, events and products.
Let's Explore what you get when you become a member of the FTW…
1)  FTW TV: AN ARCHIVE OF PLANET CHANGING INTERVIEWS AND INFORMATION
Members are granted exclusive access to all of our content on FTW TV where we strive to deliver content that focuses on solutions that can help humanity breakthrough.  With our growing video library archive, we provide you with opportunities to empower yourself with knowledge, awareness and a choice in media. Our content is designed to be educational and well organized providing a welcome space to explore many creative solutions to the world's problems. New Interviews are uploaded to FTW TV on a regular basis.
2) FTW NEWSLETTER
A special high quality newsletter only available to our members! Each Newsletter contains a monthly update on FTW Organization news, our latest shows, featured projects and the top 10 planet changing news stories for the month. We gather all the important news for you to make it easy to read about the problems and solutions in our world.
3) SPECIAL DISCOUNTS
All FTW members get special discounts on all of our future webinars, online courses, and digital download products.
Bonus Pack for Annual Members!
When you purchase an Annual Membership Plan, you'll get our special bonus of
16 Planet Changing Interviews available in instant download format to your computer.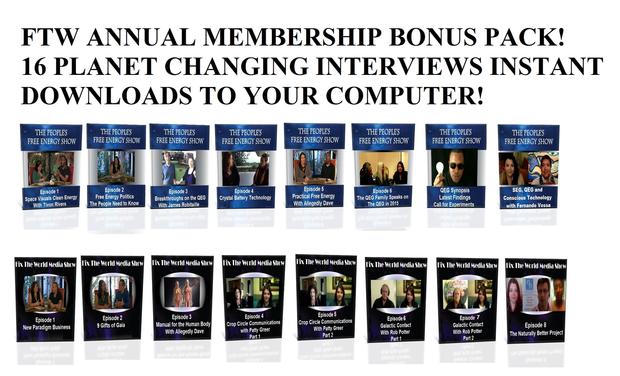 Interviews Included in Bonus Pack:
New Paradigm Business, Gifts of Gaia, Manual For the Human Body, Crop Circle Communication Part 1 and 2, Galactic Contact Part 1 and 2, Naturally Better Project, Space Visuals Clean Energy, Free Energy Politics, QEG Breakthroughs James Robitaille,Crystal Battery Technology, Practical Free Energy, QEG in 2015, QEG Synopsis Latest Findings, QEG SEG Conscious Technology
See the Difference You Make and Feel Good About Your FTW Membership!
FTW is also partnered with Kiva.org. In 2015 alone FTW helped to fund over 50 individuals and groups for business start ups in developing countries. When you help us, we help others!
Low Monthly Dues
Creating a powerful and uplifting community like this takes time and resources. At the same time, we want to make this information and community as accessible as possible to those who are serious about making a real difference in our world. So our monthly membership dues are only $6.99 per month to access all the information and shows our organization has to offer. That way we can help others and fix the world together!
Have the Freedom To Cancel Anytime 
We have put together this membership to make it easy for people to get involved, help make a difference and access our quality planet changing information. If at any time you wish to stop receiving membership benefits from FTW for any reason at all, you can cancel any time. There are no cancellation fees or contracts – you simply pay your membership dues on a month-to-month basis through paypal. And can cancel recurring payments at any time.
Now there is an affordable way to take part in such a big initiative for such a small amount. It is our hope that through this community, we will be able to connect regularly, stay well informed of the latest planet changing information and combine our efforts to make a real change and create a  new earth for the future.
We hope you decide to become a member today.
With Love and Friendship,
HOPE GIRL AND THE FIX THE WORLD TEAM